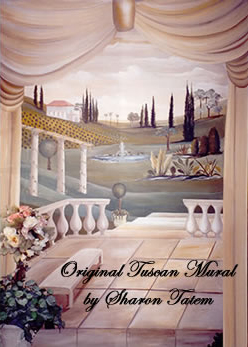 Murals for Palm Beach
Commission a Wall Mural from Mural Artist Sharon Tatem.
Contact Sharon Tatem at 561-201-3322
Mural Artist Sharon Tatem lives and works in South Florida. Sharon Paints murals in homes and businesses, creating unique murals that fit clients needs. Sharon has been painting murals for over 15 years and the murals she paints are beautiful. The wall murals Sharon Tatem paints are unique to every home or business.
Sharon paints both indoor and outdoor wall murals. Sharon has done incredible wall murals in bathrooms, hallways, dining rooms, formal murals, iving room murals, palm tree murals and Tuscan murals, Sharon has created many underwater wall murals, art deco wall murals, jungle wall murals, children's rooms, babies rooms, cartoon characters, and Disney characters. Any thing you can think of Sharon can paint a mural for you.
Sharon is located in Stuart Florida and paints murals in Stuart, Palm Beach, Palm Beach Gardens, Lake Worth, Palm Beach County, Palm Beach Gardens
Contact Sharon Tatem at 561-201-3322
Mural Artist for Palm Beach Florida
Contact me at 561-201-3322 Murals by Sharon Tatem.
Sharon Tatem has painting fine art murals for over 15 years. She can paint any style and type of mural in Palm Beach Florida. Her fine art has been on Magazines and permanent exhibits.
Mural art by Sharon Tatem for your Kitchen
If you are looking for a mural for your Kitchen you can contact me at 561-201-3322. I have done over 100 different kitchens for many unique clients. I can create any style mural for your kitchen if you live in Palm Beach Florida. Kitchens are one of the most popular rooms for murals. If you are looking for a great new look for your kitchen and want to have a mural painted, I can create a gorgeous wall mural in your Kitchen for you.
I have been a Mural artist for over 20 years and can create the most beautiful art in your home. Murals can transform your Kitchen and add value to your home. If you would like to have a beautiful kitchen Mural in Palm Beach Florida you can call me at 561-201-3322. I will show you all the Kitchen Murals I have created and you can see the many styles you can have as a mural for your kitchen. I can work from your pictures or magazines and create the style to go with your existing kitchen. Contact me for your Gorgeous Wall Mural in Palm Beach Florida.